Uniswap's recently released token – called UNI – has seen massive inflows of investments throughout the past day, with the large buy-side orders far outweighing the relatively small sell orders from users who received 400 tokens via an airdrop.
This uptrend has been further perpetuated by multiple exchange listings, with the likes of Coinbase, FTX, and Binance all listing the token within 24-hours of its launch.
This has given retail investors unprecedented access to it, which appears to be what is helping to offset the instant sell-side pressure that came about as a result of the airdrop.
It is important to note that perpetual funding for UNI is also giving bulls fuel to push it higher, with funding rates currently sitting at over 280,000% annualized.
Massive negative funding rates are incentivizing traders to open long positions on the cryptocurrency. The costly nature of short positions will likely reduce the selling pressure coming from those trading UNI perpetual swaps.
Uniswap Price Climbs Above $5.00 as Bull Trend Resumes 
At the time of writing, Uniswap's token price is currently sitting at around $5.80. This marks a fresh all-time high for the cryptocurrency, which has been steadily climbing higher throughout the past several days and weeks.
It is important to note that this marks a massive rise from its $1.00 lows set just after its listing.
These lows came about due to the intensity of the initial selling pressure from users who sold the 400+ UNI tokens that were airdropped to them.
Shortly after its launch, however, it garnered listing on multiple major exchanges, including Binance, FTX, and Coinbase.
This led to massive inflows of buying pressure from investors and has helped fuel its ongoing upswing.
The crypto is now trading right around its all-time highs as bears struggle to make any impact on it.
UNI Perpetuals See Massive Negative Funding Rates on Binance
Another factor that may further fuel Uniswap's uptrend is the massive negative funding rates for the token's perpetual swaps.
One trader spoke about this in a recent tweet, explaining that the roughly -0.1% that users are paying each hour to short UNI is making a strong bull case for the crypto.
"At -0.75% every 8 hours, or -0.0994% every hour, you are being paid 2.2% – 2.4% a day to be long UNI via perps," he noted.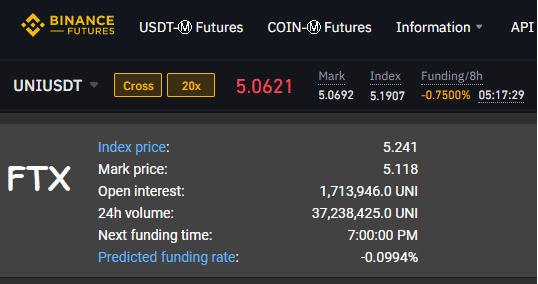 Image Courtesy of DegenSpartan.
Assuming this trend surrounding Uniswap perpetual futures persists, the token could rally significantly higher in the days, weeks, and months ahead.
Featured image from Unsplash.
Tags: UNIBTCuniusdUNIUSDT