The open interest of Bitcoin is growing again, indicating at a potentially large price movement in the near term.
In the last 24 hours, the Bitcoin price dropped by around 2.2% from $11,093 to $10,860. Many traders talked about the importance of the $11,100 resistance level and BTC cleanly rejected it.
The spike in Bitcoin volatility coincides with the imminent expiration of 77,000 BTC options contracts.
Bitcoin Options Open Interest is Rising, What Does It Signify?
According to Deribit, the BTC options open interest is hovering at around 134,000 contracts.
Historically, September has been a slow month for Bitcoin in terms of volatility. Every single September monthly candle has closed red since 2017.
The high level of options open interest indicates that a spike in volatility in October is becoming more likely.
Whether that volatility would lead to a Bitcoin rejection and a major pullback or cause the bull market to resume remains uncertain.
If Bitcoin follows the previous post-halving cycle, BTC is likely to achieve for a new all-time high 15 months after the recent halving.
Since the latest halving occurred in May, that makes an explosive rally by mid-2021 highly likely.
In the near-term, BTC could remain in a range between the $9,000s and $12,000, as the accumulation phase continues.
After the September expiration happens, which occurs on the last Friday of each month, BTC would likely show a direction. For now, the continuous rejection of $12,000 and $11,100 makes a longer consolidation phase probable.
The Deribit team wrote:
"Open interest is growing again, 134k $BTC contracts outstanding which is ~74% of total market. Next is CME with around 25k contracts outstanding. The biggest OI is held in the Sept '20 expiry, a total ~77k of which ~59K is held at Deribit."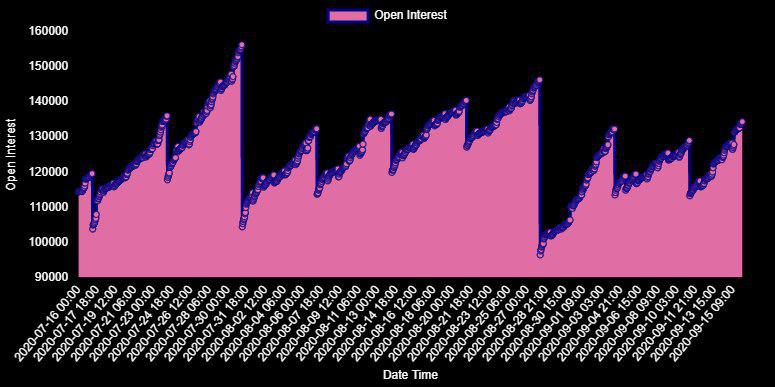 The options open interest of Bitcoin. Source: Deribit
What Traders Expect in the Short Term
Some traders believe the recent Bitcoin rejection was a take-profit pullback. In the near term, technical analysts anticipate a minor price drop.
A pseudonymous trader known as "Byzantine General" wrote:
"It really was a good spot to take profit. That liquidation cluster at $10,600 probably gets taken out now. Would be a nice re-test of the 50EMA too."
Another pseudonymous trader recognized as "DonAlt" also said that the rejection of BTC on the daily chart is not "the reaction I wanted." He said:
"Weak drive down initiated solely by traditional markets. Could do anything from here on out."
The daily chart of Bitcoin. Source: BTCUSD on TradingView.com, Edward Morra
Edward Morra, a Bitcoin trader, said the sentiment remains cautiously bearish for now. He said:
"Perfectly retested MSB (market structure break) level, bullish if it can crawl above it, bearish for now."
In the immediate term, traders are generally cautious as Bitcoin looks for a direction following the $11,100 rejection.
Tags: bitcoinbtcusdBTCUSDTOptions