Bitcoin is surging despite weakness in the altcoin market. Since bottoming at $9,800 last week, the coin has gained $1,000 and over 10% as its price has reached $10,850 as of this article's writing. Earlier today, the coin traded as high as $10,900 as buyers stepped in, seemingly responding to MicroStrategy purchasing over 10,000 coins.
The leading cryptocurrency's rally may soon end, though.
Analysts in the space are currently eyeing $11,000-11,200 as a potential region where Bitcoin's ongoing move higher will come to a stop.
This does not take away from the long-term fundamentals of BTC, which most respected commentators remain in a positive state.
Related Reading: This European Crypto Exchange Was Just Hacked for $5 Million
Bitcoin's Uptrend Could Top At $11,200: Here's Why
Bitcoin's uptrend could stall in the $11,000-11,200 range, analysts have said in response to recent price action.
One market commentator shared the chart below on September 15th. It shows that BTC's price action seems structurally similar to the price action before the capitulation vent in March.
This comparison indicates that should history repeat itself, Bitcoin will top right around $11,000, then begin a strong descent to the downside.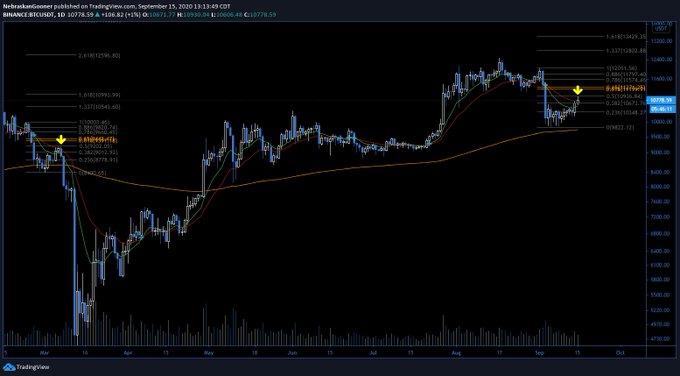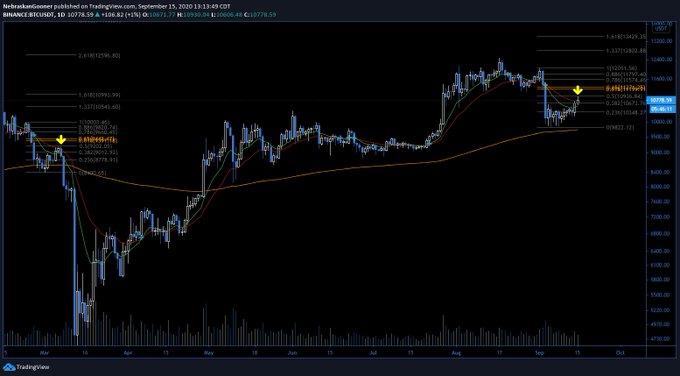 Chart of BTC's price action over the past few months from trader NebraskanGooner. Chart from TradingView.com
Another trader shared the sentiment, posting this chart that shows that $11,000-11,200 will likely be the point at which BTC's rally pauses, or reverses entirely.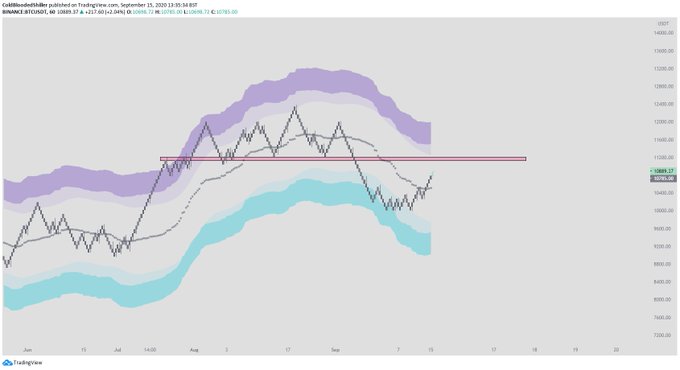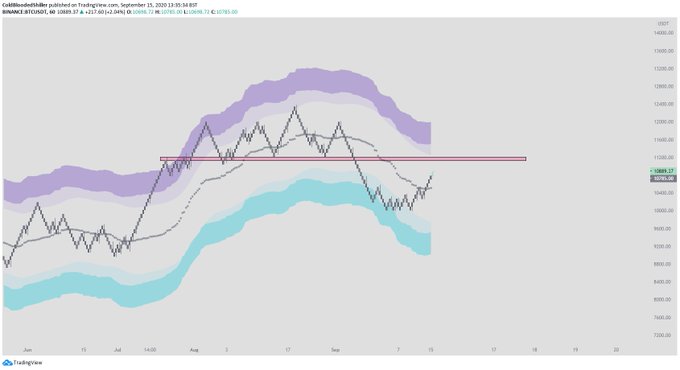 Chart of BTC's price action over the past few months from trader ColdBloodedShiller. Chart from TradingView.com
Related Reading: Here's Why This Crypto CEO Thinks BTC Soon Hits $15,000
Long-Term Trends Bullish
Whatever happens to Bitcoin in the short term, most analysts assert that the asset's long-term trends remain skewed to the positive.
Mike McGlone, a senior commodity analyst at Bloomberg Intelligence,
"Return to Decisive Support Zone – Some overdue mean reversion in the stock market is pressuring most assets, but we expect gold and Bitcoin to come out ahead in most scenarios. Declining equity prices encourage more monetary and fiscal stimulus.."
Dan Tapiero, a co-founder of DTAP Capital and other firms, agreed with the assertion put forth by McGlone. Commenting on how prominent endowments may soon need to own Bitcoin, referencing his sentiment that global macro trends will drive capital to BTC, Tapiero remarked:
"Massive wealth accumulation by global elite. Institutions with over $1 billion endowment don't need full gift tax deductibility. Crazy to think #Harvard grads wealth greater than GDP of Germany. At some point, endowments will all need to own #GOLD and #btc in portfolios."
Bitcoin is primed to suffer a correction in the short term, especially if altcoins fail to hold up. But considering macro trends, there seem to be few long-term investors liquidating their bags here.
Related Reading: It's "Logical" for Ethereum To Reject At Current Prices: Here's Why
Featured Image from Shutterstock Price tags: xbtusd, btcusd, btcusdt Charts from TradingView.com Here's the Pivotal Level Where Bitcoin's Ongoing 10% Surge May End
Tags: bitcoin pricebtcusdBTCUSDTxbtusd