Chainlink (LINK) has surged 10% higher in the past 24 hours, regaining strength while Bitcoin and Ethereum consolidate in the middle of their ranges.
The popular altcoin is poised to press higher in the days ahead according to a number of analysts, who argue that the fundamentals of Chainlink remain strong.
This rally comes as the Smart Contract Summit hosted by the Chainlink team is taking place. The event is focused on "learning about the future of smart contracts and DeFi with other passionate community members and get inspired about what the best DeFi developers are building today."
Related Reading: These 3 Trends Suggest Bitcoin Is Poised to Bounce After $1,000 Drop
Chainlink Could Soon Move Higher, Even After 10% Jump
Chainlink (LINK) is poised to move 10% higher against Bitcoin in the near future, one trader suggested. He shared the chart below, which shows that LINK has moved above a pivotal resistance level along with moving above a pivotal triangle and resistance level.
Chart of LINK's price action over the past few weeks with analysis by crypto trader Neko. Chart from TradingView.com
A number of analysts agree with this sentiment, with others pointing to the bullish state that Chainlink's U.S. dollar chart is currently in.
These bullish technical trends come shortly after LINK formed a positive on-chain signal as per Santiment, a blockchain analytics firm:
"$LINK hit an all-time high yesterday in daily active addresses. This came in tandem with an #altcoin decline that sent it down to $13.49. Now back at $16.10, the classic bullish divergence that formed from an ATH in DAA is coming to fruition."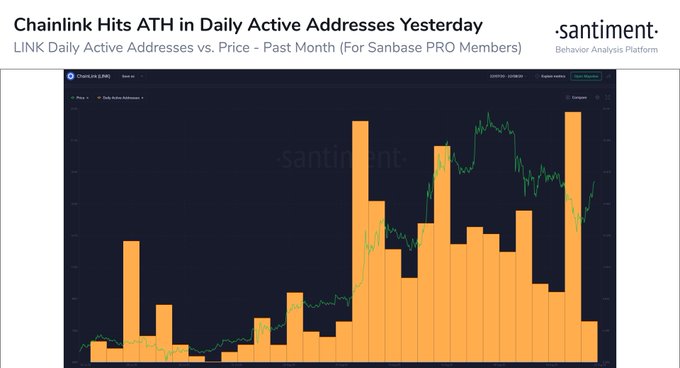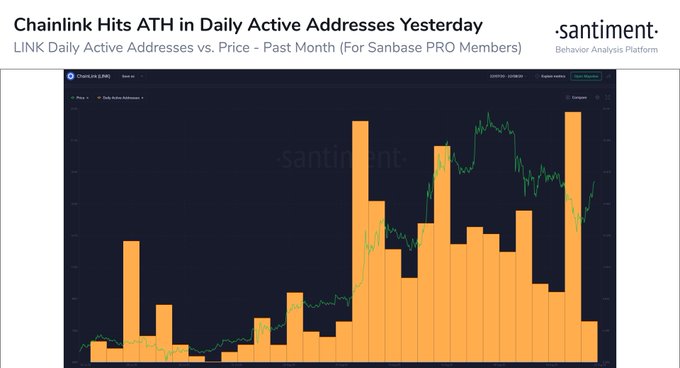 Could Boost DeFi
Kelvin Koh of The Spartan Group, a crypto hedge fund based in Hong Kong, thinks that the ongoing move higher in LINK and BAND will materialize in a move higher in all DeFi-centric assets.
"Oracles led the previous leg of DeFi rally on the way up and then on the way down. If today's move in $LINK and $BAND is any indication, the next rally for the broader DeFi space should follow."
He's right: Chainlink actually led Bitcoin and much of the rest of the crypto market higher over the past few months.
Related Reading: Crypto Tidbits: MicroStrategy's $250m Bitcoin Purchase, ETH DeFi Boom, BitMEX KYC
Featured Image from Shutterstock Price tags: linkusd, linkbtc Charts from TradingView.com Chainlink (LINK) Surges 10% Higher: What Do Analysts Think Is Next?
Tags: chainlinkLINKBTCLINKUSD