The Ethereum-based LEND, the native token for the Aave protocol, has seen a stunning performance over the past few months as DeFi has risen to prominence. The asset has gained in excess of 5,000% from the lows of 2019. It now trades for $0.76, up around 200% in the past month alone.
LEND's rally has seemingly been unstoppable, with the asset managing to climb exponentially after the March capitulation. According to a new analysis, though, LEND may be reaching unsustainable heights.
Related Reading: These 3 Trends Suggest Bitcoin Is Poised to Bounce After $1,000 Drop
Ethereum DeFi's LEND Could Correct as Price Is Seemingly Overbought
LEND has slipped 7% in the past 24 hours after a rally on news of a positive regulatory event for the Aave protocol.
The asset may be poised to reverse even further to the downside as it seemingly remains overbought on a macro time frame.
Brave New Coin analyst Josh Olszewicz shared the chart below on August 27th. It shows that LEND is above the two times multiple of the one-year moving average.
Although this is the first time LEND has done this as per the chart, this signal suggests that the Ethereum coin is overvalued on a macro basis.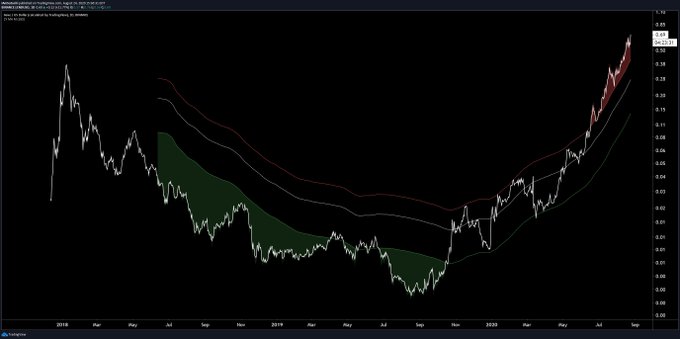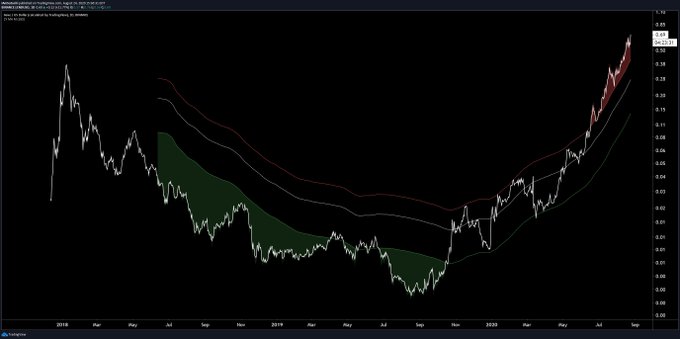 Chart of LEND's price action over the past few years with a MA multiplier analysis by Brave New Coin crypto analyst Josh Olszewicz (@Carpenoctum oN Twitter). Chart from Tradingview.com
Related Reading: Crypto Tidbits: MicroStrategy's $250m Bitcoin Purchase, ETH DeFi Boom, BitMEX KYC
Fundamentals Remain Positive
While LEND may be slipping in the near term, the protocol's fundamentals remain skewed positive.
DTC Capital's Spencer Noon remarked on the matter:
"One of the best signals of PMF in #DeFi is if a project can succeed w/o extra incentives (liquidity mining). @AaveAave doesn't have LM yet it's still one of the biggest beneficiaries of new yield farming activity. At $1.26B TVL and only $759M mcap—the fundamentals are so strong."
Noon is discussing how Aave and LEND have been able to grow organically, without incentives like the liquidity mining craze that has taken Ethereum by storm over recent weeks. The fact that it has accrued so much value and adoption without liquidity mining, Noon explained, goes to show how the protocol's fundamentals are "so strong."
Kyle Samani of Multicoin Capital made a similar comment in response to Noon's strong assertion:
"If I had to hold a single Ethereum based DeFi asset for 2 years, it would be $AAVE. By far the best combination of: product/market fit, token distribution, community, pace of innovation, and reasonable valuation with upside to go."
How these narratives will drive LEND's price action in the near term, though, remains to be seen.
Featured Image from Shutterstock Price tags: lendusd, lendbtc Charts from TradingView.com DeFi Darling Aave (LEND) May Face Correction as Price Reaches Overbought Levels
Tags: aaveDeFiethereumlendbtclendusd