Yearn.finance (YFI) has embarked on a parabolic run-up over the past few days. The Ethereum-based asset traded at $4,200 one week ago, and yesterday, it reached $16,500. This is a gain of almost 300% in around seven days.
The asset is beginning to reverse, though. YFI is down 20% in the past 24 hours as the market seemingly believes the asset is overbought or overvalued in the near term.
Here's what analysts think comes next for the coin.
Related Reading: Crypto Tidbits: MicroStrategy's $250m Bitcoin Purchase, Ethereum DeFi Boom, BitMEX KYC
Yearn.finance Drops 20% After Parabolic Run-Up
In the past 24 hours, YFI has dropped by 20% according to data from CoinGecko. It now trades at $12,000, around $4,500 below the highs seen on Thursday.
Chart of YFI's price action over the past few days from TradingView.com
This comes as the rest of the cryptocurrency market, including some DeFi tokens, have begun to drop toward the downside.
Bitcoin is down 2.5% in the past 24 hours while Ethereum has posted a 6.2% loss. BTC's relative outperformance over Ethereum, YFI, and other tokens shows that the market is investing in Bitcoin as a safe-haven play.
Related Reading: Is BTC Really In a Bull Market? Here's Why Analysts Think BTC Isn't
Why Analysts Are Still Bullish on YFI
Analysts are still bullish on YFI after the 20% drop to the downside.
One analyst noted that the technicals of the asset remain in a good spot. The analyst in question noted that per Elliot Wave, YFI looks poised to move towards $20,000 in the coming days. Elliot Wave is a form of technical analysis that suggests that markets move in predictable waves that are created by investor psychology.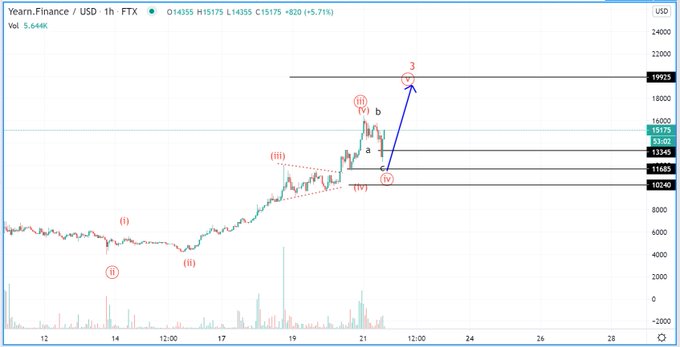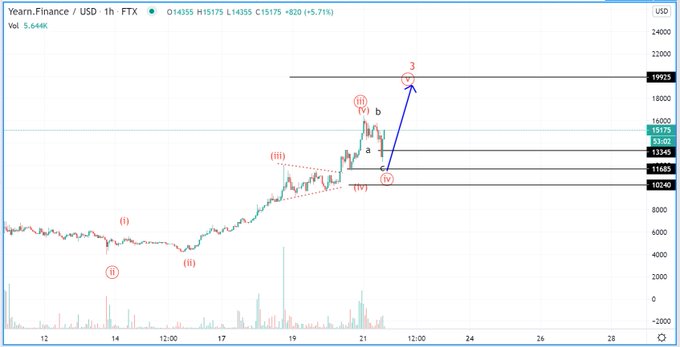 Chart of YFI's price action over the past few days with analysis by trader "SmartContracter." Chart from TradingView.com
The fundamentals, pundits suggest, are also bullish for the cryptocurrency.
The total value of tokens locked in the DeFi protocol recently reached $1 billion for the first time ever, which is exponentially higher than it was just days ago. YFI has been benefiting from the launch of Curve's CRV token, which is pushing capital to be deposited in the exchange, along with the launch of more products by Yearn.finance's founder.
Related Reading: DeFi Giant Compound (COMP) Dives 9%: What's Next for the Ethereum Token?
Featured Image from Shutterstock Price tags: YFIUSD, ETHUSD, ETHBTC Charts from TradingView.com Top DeFi Token Yearn.finance (YFI) Craters 20%: Why Analysts Remain Bullish
Tags: DeFiethereumyearn financeyfiyfiusd